Schweizer Pavillon
(Architektur Biennale Venedig, 2000)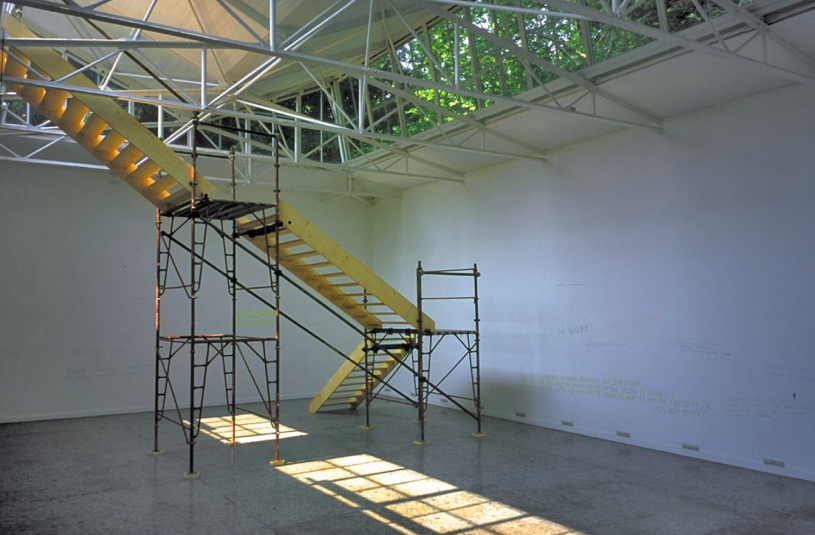 (installation views)

Project space: Architektur Biennale Venedig, Schweizer Pavillon (IT, 2000)

Projekttitel/Project title: dutyfree*useme / sneak preview (on Humanity, Urban Planning & Dignity).

Künstler*innen/Artists: Christoph Büchel, Bob Gramsma , Jörg Lenzlinger & Gerda Steiner, Koeppel-Martinez Architekten (marCo & Carlos) , relax ( chiarenza, hauser & croptier) und Markus Wetzel.

Publikation AuthorInnen/Publication authors: Seyla Benhabib, Georg Kohler, Hein Bude, Heikyöng Moser-Ha, Richard Rorty and Marc M.Angelil.
ISBN 3-7212-0398-4 Niggli Verlag, 2000. Schweizer Beitrag zur 7. Architektur Venedig Biennale.

Kurator: Harm Lux


DE
Können wir diejenigen die wir nicht kennen, und die eine helfende Hand benötigen, helfen!

Für Personen mit wenig Geld und keinen Studentenausweis ist die Biennale schon teuer. An der Hinterwand vom CH- Pavillon (welcher Außerhalb des Biennale Areals liegt) wurde eine Treppe und Brücke gebaut, um über diese in die Schweizer Insel (Pavillon) zu gelangen. Durch den Raum dann in der Biennale. Ein weiteres Skulpturales Werk: gut durchlüftete Autos vor dem CH-Pavillon, Autos zu benützen als Übernachtungsort. Im Pavillon noch Maquetten zu: "urbane Überlebens-nischen" , und vor dem Pavillon noch eine kleine Holz-Kartonunterkunft , eine Kopie von ein Flüchtlings-Heim in Rome ( in ein kein Wasser mehr fliesende Kanalisation) !!




Venice Architecture Biennale, Swiss Pavilion, 2000


(installation view with cars)


EN
Can we help those we don't know who need a helping hand!

For people with little money and no student card, the Biennale is already expensive. On the back wall of the Swiss Pavilion (which is outside the Biennale area) a staircase and bridge was built to get into the Swiss Island (Pavilion). Through the space then into the Biennale. Another sculptural work: well-ventilated cars in front of the CH pavilion, cars to be used as overnight accommodation. In the Pavilion also maquettes on: "urban survival niches", and in front of the Pavilion a small wooden cardboard shelter, a copy of a refugee home in Rome (in a sewer system that no longer flows) !!



(Concept sketch)