I hear your voice, Schritte in seismographischer Aufmerksamkeit
Frauenfeld, 1996

–, OI#9629. 1996
Shoulder-level floating construction with UVA lights, 320 x 450 x 210 cm


Project title: "I hear your voice, Schritte in seismographischer Aufmerksamkeit"

Project space: Shed im Eisenwerk, Frauenfeld (CH, 1996)

Künstler / Artist: Bob Gramsma solo project

Curator :Harm Lux


DE
Der Laufsteg fungiert als Eingang, wir halten erstmals Distanz zu der großen Erdfläche, Distanz zu dem was wächst, respektive was versucht zu wachsen, die fast Wasser trockne Kanalisation betrachtend, Distanz zu das was sich aus der- (und durch), Einordnung entwickeln soll. Wir schlendern durch den Raum, in eine auf dem Boden liegenden, Rakett-spitzeskulptur, befindet sich eine Treppe, ... gibt Richtung vor!, in der clean wirkenden leuchtenden Kapsel hören wir das zart vibrierende Geräusch eines bedenklichen Wachsens, und das Surfboard macht den Wachstum der Bambus unmöglich: wohl getragen werden wollen, die drunter liegende Energie aber nicht hoch kommen lassend! Über Wellen, Spaß, Egoismus & Schmerz, oder: "I hear your voice, Schritte in seismographischer Aufmerksamkeit".


EN
The catwalk functions as an entrance, ..first we keep distance to the Earth-surface, it is a distance from what is growing, or rather what is trying to grow, looking at the almost water-dry sewage system, distance from what is to develop from (and through) our classifications, read: conformations! We stroll through the space , in a rocket-top sculpture (lying on the floor), a staircase is build, - one which gives direction, to...!, in the clean looking- and shining capsule we hear a soft vibrating sound of a precarious growing, and the surfboard makes the growth of the bamboo almost impossible: we like to be carried, but not letting the energy underneath come up! About waves, fun, egoism & pain or: "I hear your voice, steps in seismographic attentiveness"


torture, OI#9627. 1996
Surfboard blank ontop of bamboo shoot. Within time the sprouts are growing trough the board. Bulletproof leash between board and floor, 220 x 55 x 5 cm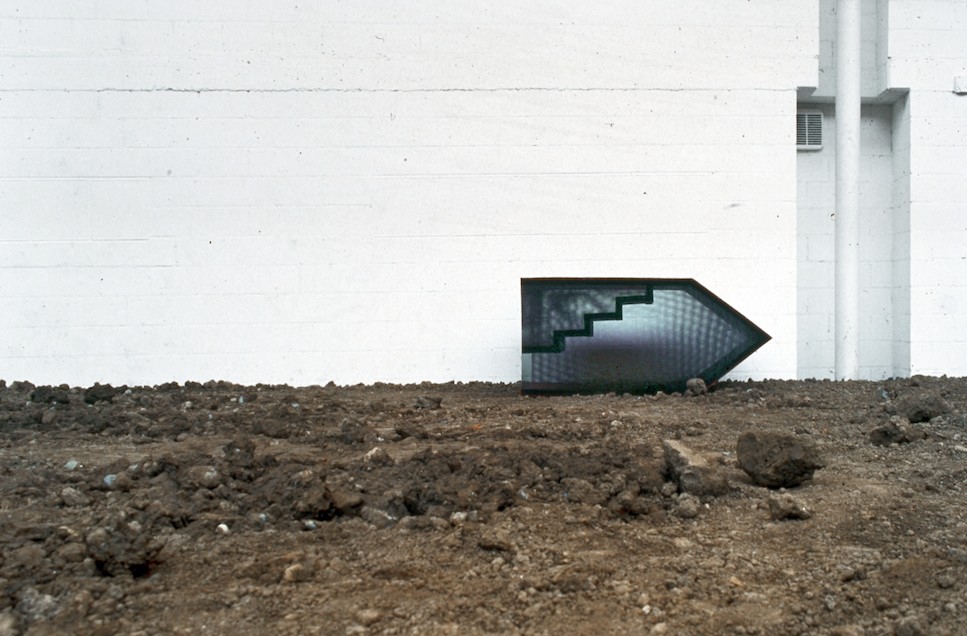 –, OI#9628, 1996
Architectural model (Nomex Honeycomb core) surfing on earth's surface, 45 x 55 x 75 cm