el QUINTO PASAJERO

(La Paz, Bolivia. 2007)


(performative and interaction processes / procesos performáticos y de interacción)


Project title / Nombre del proyecto: el QUINTO PASAJERO (The Fifth Passenger)
international workshop on contemporary art. 21.02. - 31.03.2007

Project spaces / Espacios del proyecto: Museo Tambo Quirquincho + La Paz city. La Paz, Bolivia

Artists / Artistas: Mari Brellochs (DE), Rabea Eipperle, Alejandra Alarcón (BO), Narda Alvarado (BO), Alejandra Andrade (BO), Galo Coca, Claudia Joskowicz, Rodrigo Rada (BO), Eduardo Ribera, Sol Mateo, Joaquín Sánchez, Roberto Unterladstaetter (BO), Kristofer Paetau (FI), Channa Boon (NL), Ondrej Brody (CZ), Elia Buletti (CH), Beatrice Fleischlin, Nicolas Y. Galeazzi (CH), Christoph Hess (CH), Andreas Liebmann (CH).


Catalogue / Catálogo "el QUINTO PASAJERO"
Contributions and Authors / Contribuciones y autores: Ramiro Garavito (artist-philosopher. La Paz), Valeria Paz (independent curator, La Paz) and Harm Lux (independent curator, Berlin)

Design/Diseño: Roberto Unterladstaetter
Translation/Traducción: Claudia Joskovicz / Valeria Paz
Edition/Edición: Monica Navia
Photographers/Fotógrafía: Alejandro Avarez, Alejandro Azcuy, Antonio Suarez, La Razon and images from the participants.
Print/Impresión: Artes Graphicas Sagitario, La Paz
Publishers/Editores: Valeria Paz /Harm Lux

Curators & coordination / Curadores y coordinación:Harm Lux (Berlin) & Valeria Paz (La Paz)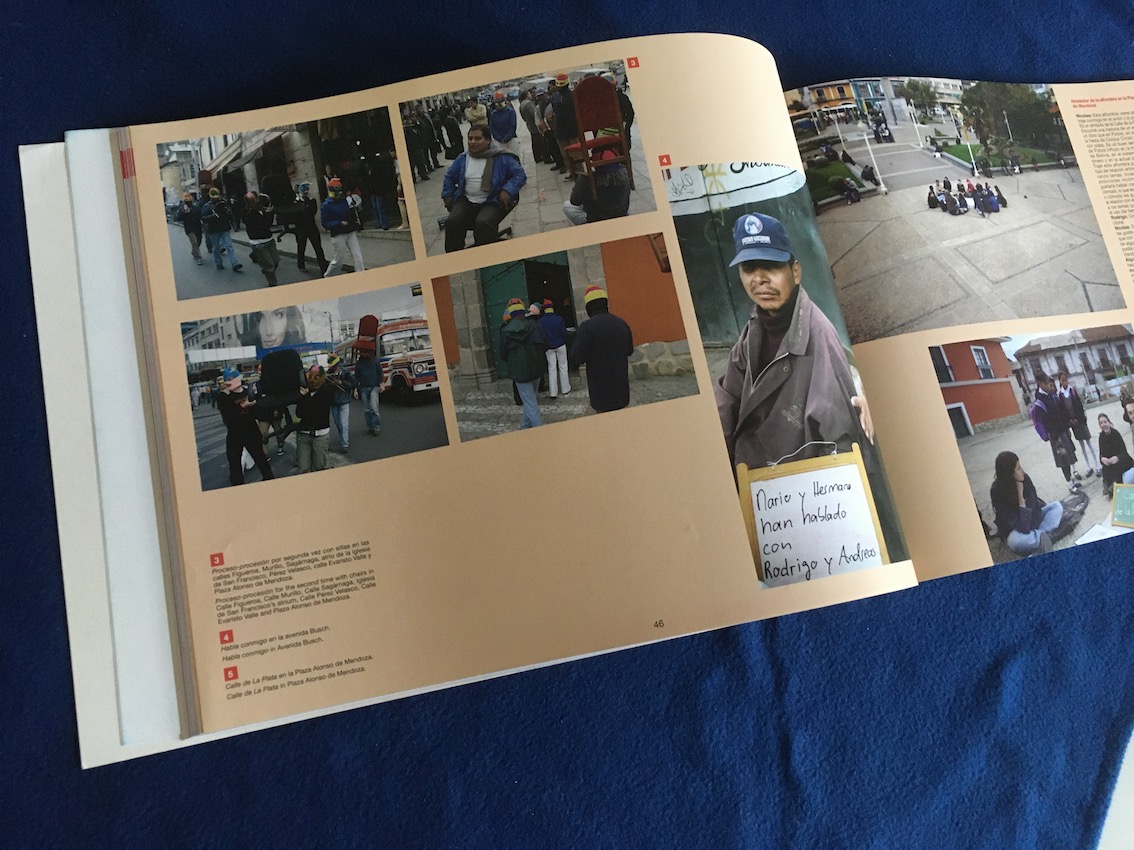 EN
A cooperative project between Bolivian and European artists, exchanging the first 3 days (in workshops) each other project-ideas, (and how to work) starting then (often in duo, trio, or group format) a 17 days lasting urban-research in La Paz. Afterwards, performing every 2nd day a greater collaborative performance at the Museo Tambo, viewing the main results (after 20 days) at the project-opening in Museo Tambo.

The Europeans (all for the first time in Latin America) had in this project their pleasure in discovering the foreign culture especially in the smaller Bolivian rituals. A part of the joy of the Bolivian artists was making the European artists on "special Bolivian" sites, objects and activities attentive, but questioning at the same moment themselves…. which Bolivia are they showing! The work of the European artists (exhibition and performances) characterized then through language and playing with Bolivian (daily) rituals, therefor was the body (with Identity as theme) and "the body among others" a strong topic by the Bolivian colleagues.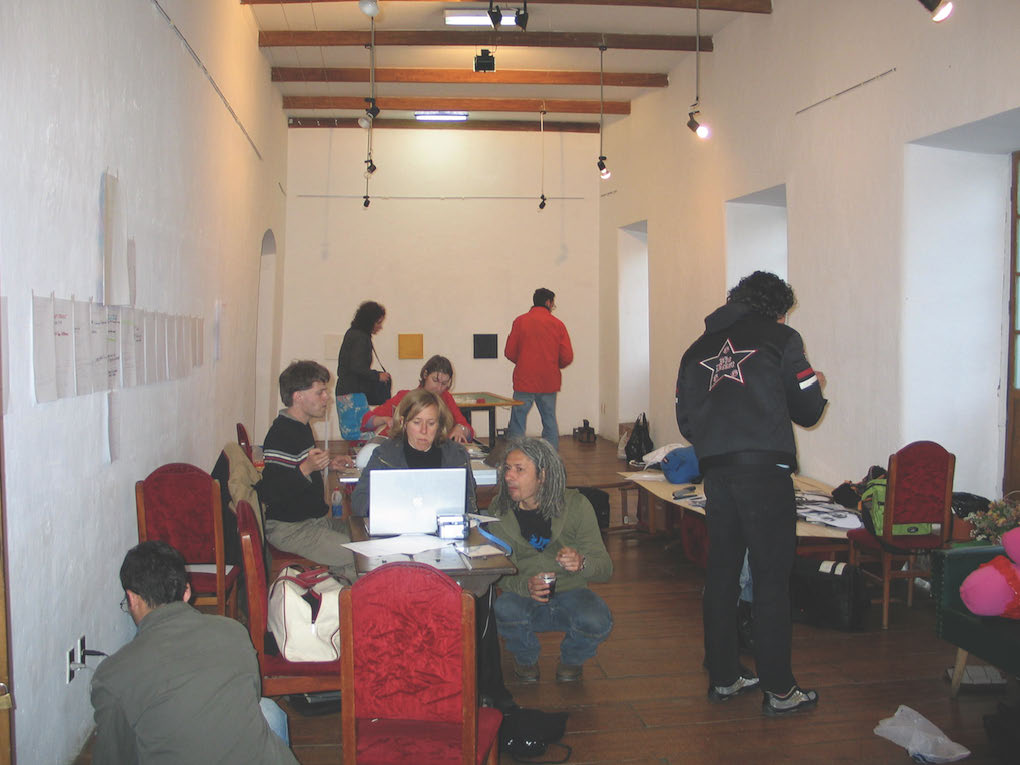 (dialogues, experiments and work processes / diálogos, experimentación y procesos de trabajo)


ES
Un proyecto de cooperación entre artistas bolivianos y europeos, intercambiando los primeros 3 días (en talleres) las ideas de proyectos de cada uno, las metodologías de trabajo, y comenzando luego (a menudo en dúos, tríos o grupos) una investigación urbana de 17 días de duración en La Paz. Después, cada dos días se realizó una performance grupal en el Museo Tambo, mostrando los principales resultados (después de 20 días) en la inauguración del proyecto en el Museo Tambo.

Los europeos (todos por primera vez en América Latina) tuvieron en este proyecto el placer de descubrir la cultura extranjera, especialmente en los rituales bolivianos más cotidianos. Una parte de la alegría de los artistas bolivianos fue hacer que los artistas europeos experimentaran "la cultura" en sitios, objetos y actividades; atentos, pero cuestionándose al mismo tiempo ellos mismos.... ¡qué Bolivia están mostrando!
El trabajo de los artistas europeos (exposición y peformances) se caracterizó entonces por el lenguaje y el juego con los rituales (cotidianos) bolivianos, por lo que fue el cuerpo (con la identidad como tema) y "el cuerpo entre los otros" un tema principal para los colegas bolivianos.




(performative processes / procesos performáticos)