Curatorial Course/Workshop for younger curators, artists & cultural workers
repositioning the self and our sensitivities to the world
BERLIN / LIMA


Course Curator: Harm Lux
Organisation-Assistance Lima: Carlos Leon-Xjimenez

OVERVIEW OF FINALIZED COURSE
6.11.2021 – 22.02.2022
NEW COURSE: will be announced in due time

The theoretical Sessions about the last 150 years of the Art Development. Analyzing the changes in production, narratives, and their significance to the current understanding of art. Each session contains of: a 50 - 60 mins Slideshow about the developments in contemporary art, theoretical input talk and discussion time.

Participants' exchange; group homework and exchange (as a collective Zoom, weekly 2.30 hours).


Session 1: Introduction each of the participants and Harm Lux
Session 2: Curatorial work and projects by Harm Lux (90 mins)
Session 3: Harald Szeemann (80 mins); second Harm's Talk "On Curating" (40 mins)
Session 4: Harald Szeemann Part 2 (30 mins), Kasper König West: 1981 HierAus: 84 (80 mins) / Homework ideas: "On Curating"
Session 5: Jan Hoet, Gent projects (70 mins) Harm's Intro Talk "On Sensitivity" (25 mins) / Paticipants' ideas: "On Curating"
Session 6: Kasper König: Münster Projects 1977 & 2007 / Participants' ideas "On Sensitivity"
Session 7: Harm's Intro Talk: On Niklas Luhmann, "social structures" (in-exclusion) (35 mins), Jan Hoet, Kassel 1992 (40 mins) followed by the participants' talk
Session 8: Catherine David, focus on Okwui Enwezor (110 mins), followed by the participants' talk
Session 9: Harm's Talk "On Contingency"(Butler, Habermas, Rorty, Freud) (50 Mins) and Carlos Leon's Talk "Developments in Latin American Art since 80ies" (45 mins)
Session 10: Harm's Talk "On Empathy" (45 mins) / Participants' Talks (40 mins)
Session 11: Harm's Talk "The Autonomous & Authenticity towards Autopoiesis" (35 mins)
Session 12: Harm's Talk "Anarchy & Utopia, non-normative & different Life models" (45 min)
Session 13: Harm's Talk "The Weight of the Anthropocene Culture" (30 mins)
Session 14: Harm's Talk - ideas: "Weight, We & digital-virtual Culture: do we strengthen each other through living Nomad Lifestyles? (What does this mean for the significance and changings in presentation & production?)"


Duration: 4 months (next course: 6 months)



Informations about the last Course November 2021/February 2022 (English text below images)


> DEUTSCH Informationen zum Kurs/Workshop
> ESPAÑOL Información sobre el curso/taller


Taiyo Onorato & Nico Krebs:
Red Glow.
2006. C-Print, dibond, Optiwhite glass 94x120 cm.
Copyright the artists; Sies + Höke, Düsseldorf; raebervonstenglin, Zürich
You feel the need to present contemporary art (and practices related to this art form) in a different way than the known methods.
Maybe looking for (forms of) presentation that feel connected to the open-ended ideas (with narratives in constant change)? We will see!


About the course/workshop:
The bring in of information to-, and following how curatorial qualities are formed, in example over weeks we will raise the question: through which a sensitive empathy, as well as sensitive ways of seeing, of understanding and acting are formed.
The course/workshop will connect historical ways of recording/observing, mediating and exhibiting with current practices and possibilities, starting from the assumption that the classical - production, mediation and presentation - cultural centers (e.g. museums) are partially replaced by other practices in the technological (digital) world. In the course we will explore the strengths and weaknesses of future cultural development and anticipate what this may mean for art & democratic culture.
One third of the course will take place in Zoom, this in exchange with Lima (for future collaborations)
From Berlin, each lecture will be followed by a seminar, 5 times at Zoom with Lima). The homework (your project papers) will always be worked out in duos, or trios (Berlin, with Lima partner). We will end the course with a small presentation (this may be a few months later).

The course/workshop objectives:
a) Introduction to curating through knowledge strengthening, analysis and sensitivity stimulation.
b) Awareness development on changing production, mediation, presentation and visitor response (inclusion)
c) Initiation of a small international operating curatorial network.

Course start:
Around first November week 2021. Duration until end February 2022 (course extension is possible).

Application period: Deadline: October 06th, 18:00 hours.
Application Form (Fill up the PDF, and send it per email)

You will receive our (positive/negative) afterwards.
(around 14 people will be invited for a personal interview in mid-October).
This is a course for 6 creative and fully committed young people (living in Berlin, or reasonable train-ride distance to Berlin), and for the same amount of people living in Lima.

Course/Workshop level:
Master level. First university degree is required. Those who do not have complete university studies but are active as a curator* should apply, too. Asking, and thanking you.
For all applicants count the following criteria: sensitivity, views on how to bring art in a different way (according to our times), extremely curious, a well-read person, and …diving into the emerging.
Any application is welcome!

Time investment:
Weekly: a 2:15 hours educational meeting. Another 10 hours most be reserved for homework, digital meetings with the other city participants, and/or physical meetings.
Berlin space: A lab room (where your free spirit can run wild) is at your disposal (35 sqm, with Tel, WIFI, printer, video projectors, publications about art (DE-EN-NL) in Berlin-Kreuzberg.
Lima space: A physical meeting place will be anounced, where to meet with the 6 participants.

Course/Workshop language: Official language English. (German and Spanish knowledge desirable)

Course/Workshop offer from: Flux I bell sTRUcTURs e.V. - theme & performance projects Berlin and the support of

Asociación de Curadores del Perú

(Peruvian Curator´s Association)

Concept: Harm Lux (curator, Berlin) in collaboration with Carlos Leon-Xjimenez (artist and curator, Berlin/Lima)

Course/Workshop fee:
Berlin: 75-95 € monthly, this includes use of laboratory / free-spirit-room (amount depends on person)
Lima: 95 €






1. Berlin 2019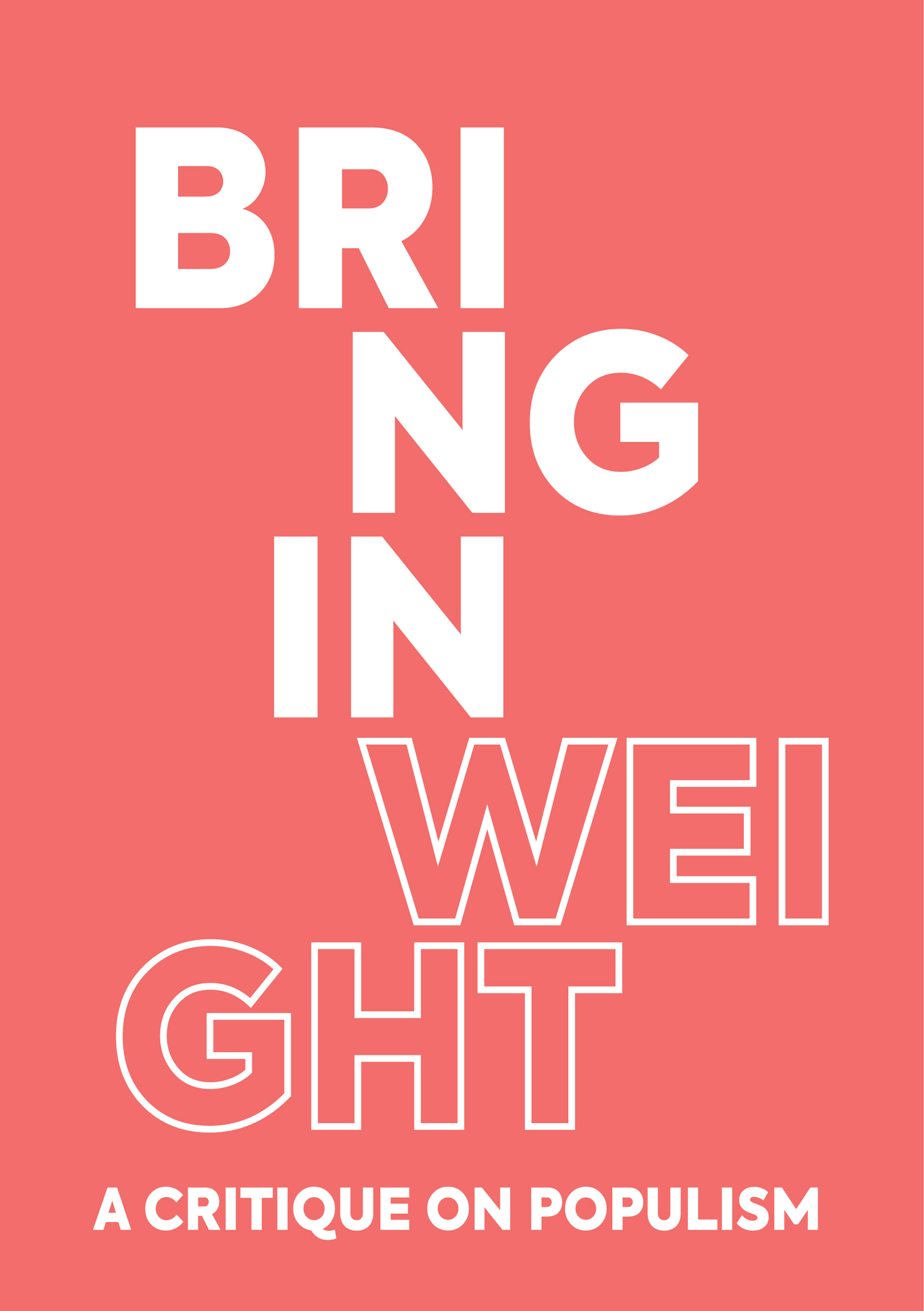 05-07.12.2019


Place/Ort: Kunstraum 7Hours, Humboldt Universität Campus, Berlin
Participants/TeilnehmerInnen:
+ Dr. Marie Rosenkranz (Berlin)
+ Philipp Rhensius (Berlin)
+ Robert Prosser (Wien-Alpbach)
+ Philip Kojo Metz (Berlin)
+ Morgenvogel Real Estate (Berlin)
+ San Keller (Zürich)
+ Dr. Dennis Pohl (Brüssel)
+ Ann Schomburg (Berlin)
+ Milenko Lazic (Zürich)
+ Veli & Amos (Zürich)
+ Manuel Bonik (Berlin)
ENGLISH

Four of us sit at the beginning of the workshop at a larger table, one begins and speaks about his fears for nationalism / populism, how things get out of control, the second speaker responds to the first: such views should not be inflated. Speaker 2 explains from an almost literary perspective why such thoughts, such feelings never last long. In contrast to the first two speakers, the third speaker speaks much more analytical and reflective, calls questionable network connections. Speaker 4 (an artist) takes up the ideas of the first three, but names creative actions and addresses "concrete-demonstrative" performances as a possibility. Afterwards, the audience is invited to engage in the conversation, to reconsider the input. After the break, we work in groups, discussing the topics and networking ideas on their importance for implementation. After the meeting and exchange of information with the colleagues, we work two or three groups, in order to think together about the main concepts, and especially how we can performatively implement them.




DEUTSCH

4 von uns sitzen bei Workshopanfang an einem größeren Tisch, einer beginnt und spricht über seine Ängste für Nationalismus / Populismus, wie Dinge außer Kontrolle geraten, der 2. Sprecher reagiert auf den Ersten: solche Ansichten soll man nicht aufblähen. Referent 2 erklärt aus einer fast literarischen Perspektive, warum solche Gedanken, solche Gefühle niemals lange anhalten.Im Gegensatz zu den beiden ersten Sprechern spricht der/die 3. SprecherIn viel analytischer und reflektierter, benennt bedenkliche Netzverbindungen. Sprecher 4 (ein*e Künstler*in) greift die Ideen der ersten drei auf, benennt aber kreative Aktionen und spricht "konkret-demonstrative" Performances als Möglichkeit an. Anschliessend wird das Publikum eingeladen sich am Gespräch zu beteidigen, den Input zu überdenken. Nach der Pause arbeiten wir in mehrere Gruppen, die eingebrachten Thematiken und Netzwerkideen auf ihre mögliche Umsetzung besprechend. Nach dem Informationsaustausch arbeiten wir in zwei bis drei Gruppen, um uns gemeinsam Gedanken über die wichtigsten Begriffe zu machen und wie wir diese performativ umsetzen können.


PERFORMATIVE CONTRIBUTIONS
San Keller
, artist:
Milenko Lazic, artist:
Robert Prosser
, author & artist:
Philipp Rhensius
, sound researcher, writer & composer:
Ann Schomburg
, artist:
THEORETICAL CONTRIBUTIONS
Marie Rosenkranz
, research associate at the European Democracy Lab
Philipp Rhensius
, sound researcher, writer & composer
Manuel Bonik
, journalist & artist:
Dennis Pohl
, scientific associate:
Robert Prosser
, author & artist:
ARTISTIC TALKS ON POPULISM
Philip Kojo Metz
, artist, Berlin
San Keller
, artist:
Milenko Lazic
, artist & publisher:
Ann Schomburg
, artist:
SCULPTURAL INTERVENTIONS
Morgenvogel Real Estate
(Maria-Leena Räihälä & Manuel Bonik), artists:
Veli & Amos
, artists:
Philip Kojo Metz
, artist:
IMPRESSUM
PROJECT by
Kunstraum Walcheturm
(Zürich)
Curatorial + Coordination by Harm Lux
Produced by Flux I bell sTRUcTURs e.V. (Berlin)
Design: Giulia Guanella (Berlin/Milano)
Berlin translation: Sian Cottrell-Davies (Berlin)
Text editors: Robert Prosser (Vienna), Manuel Bonik (Berlin)
Photo + Web:
Carlos Leon-Xjimenez
(Berlin)
PROJECT MAIN SUPPORTER
PDF PRINTED PROGRAM / PDF GEDRUCKTES PROGRAMM
2. Maribor 2020
27-29.02.2020

Place/Ort:

GT22

, Maribor
Participants/TeilnehmerInnen:
+ Morgenvogel Real Estate (Berlin)
+ Veli & Amos (Zürich)
+ Philip Kojo Metz (Berlin)
+ Jernej Kaluza (Ljubljana)
+ Silvia Wienefoet (München)
+ Julie Semeroz (Geneva)
+ Robert Prosser (Alpbach)
+ Philipp Rhensius (Berlin)
+ Kaja Kraner (Ljubljana)
+ Manuela Unverdorben (München)
+ Ann Schomburg (Berlin)

+ collaborative performance (Gutman, Modrinjak, Pocrnjić, Prosser, Rhensius, Semeroz,
Tesla, = Hek(media)LebGT22)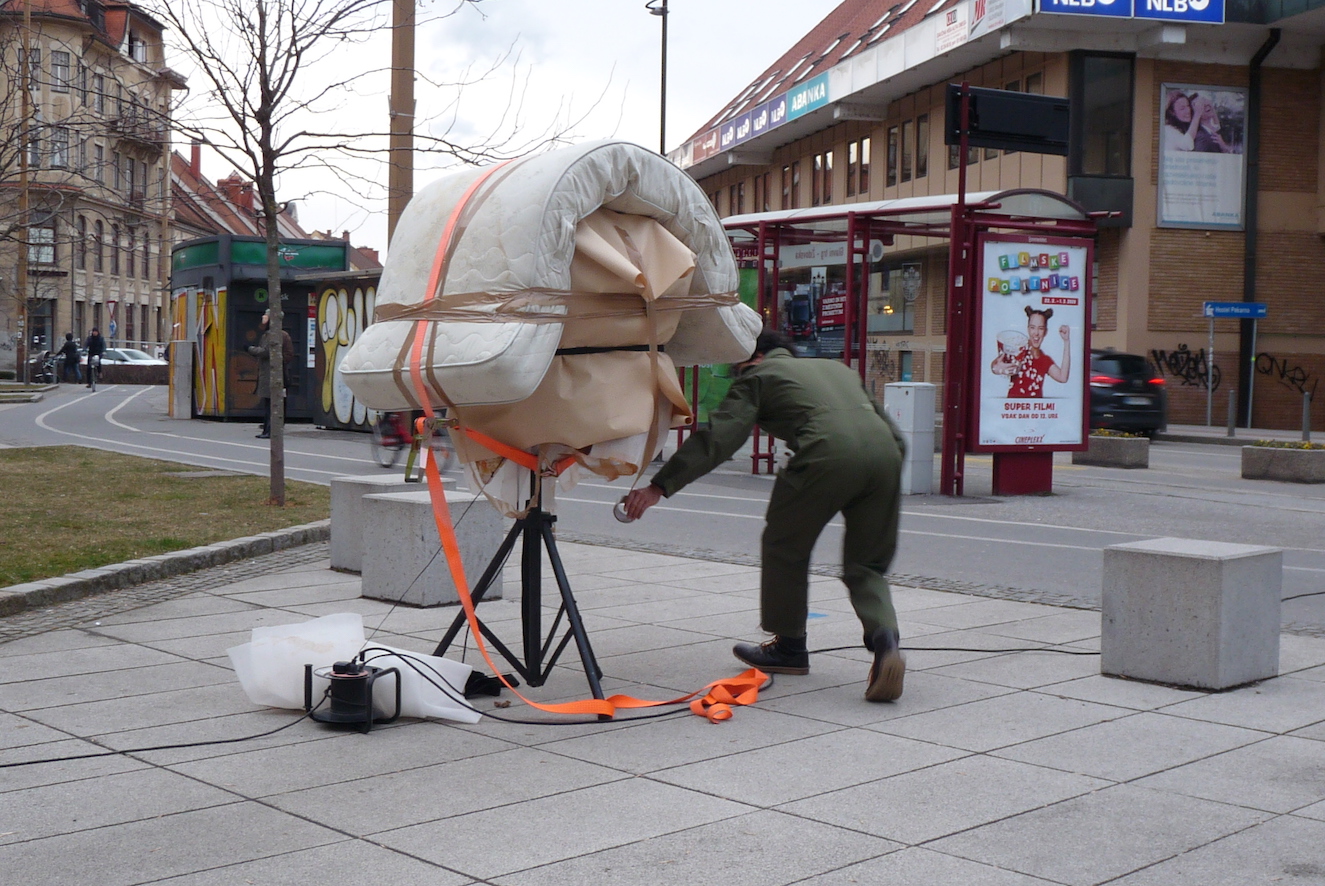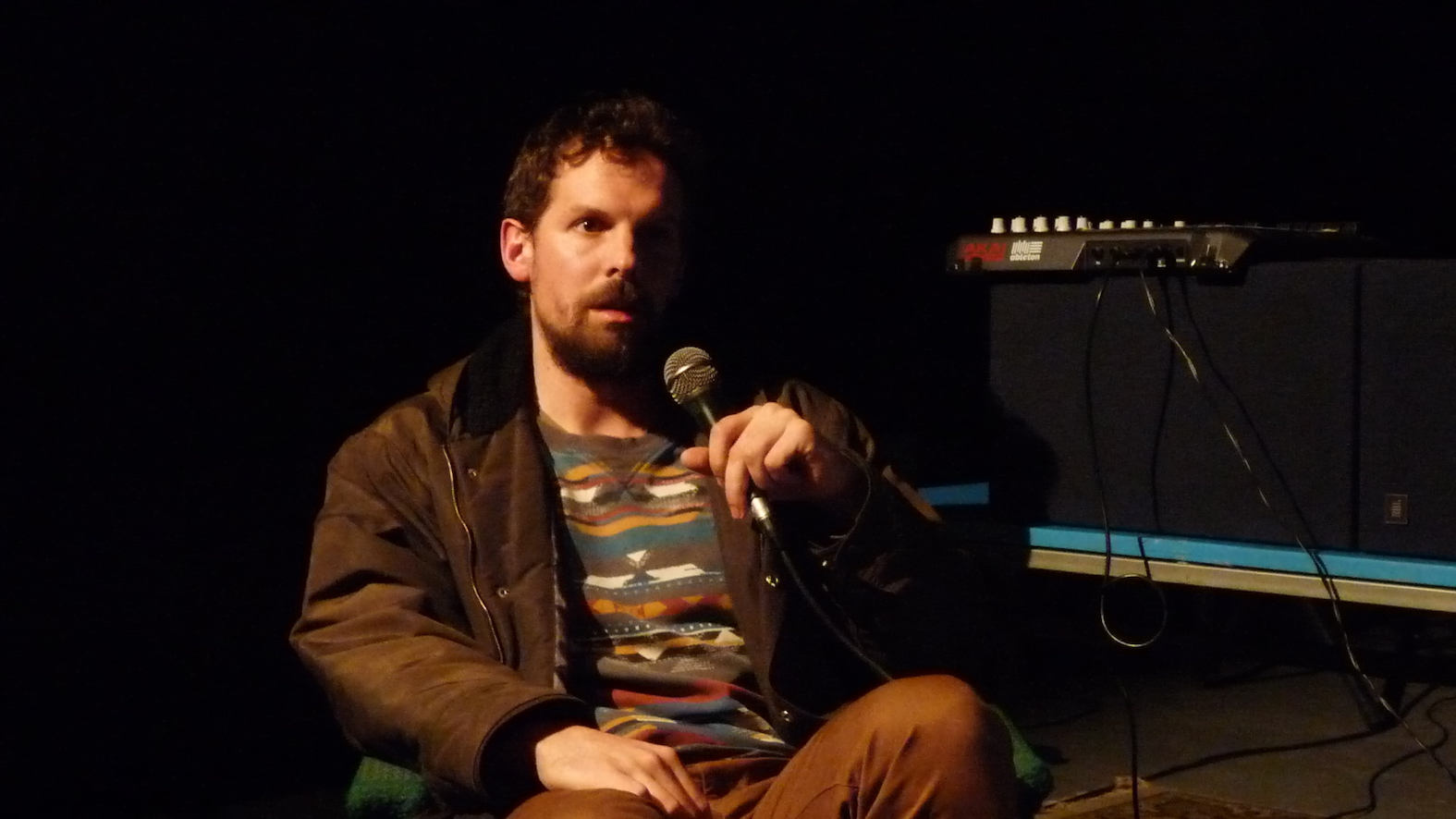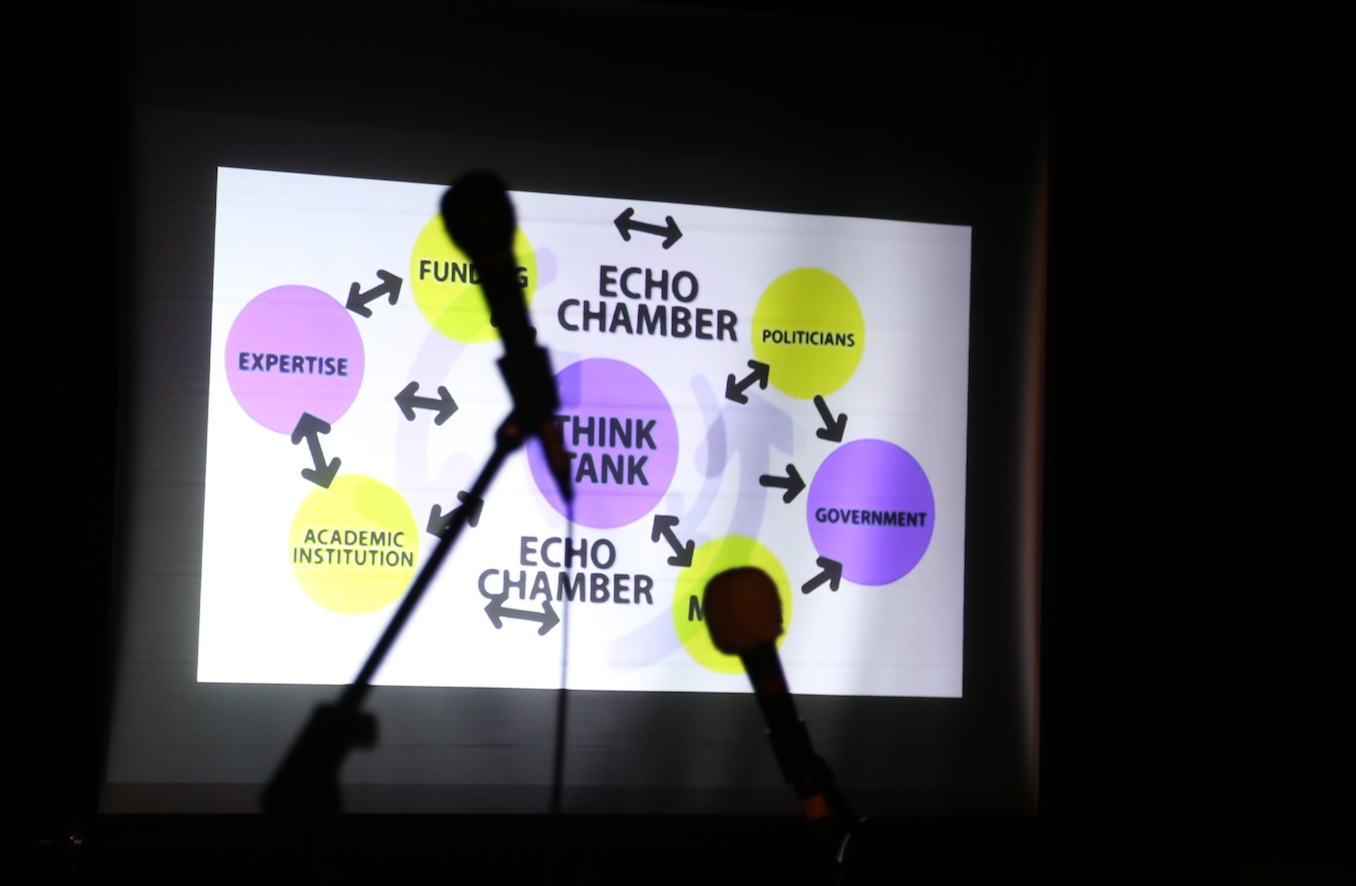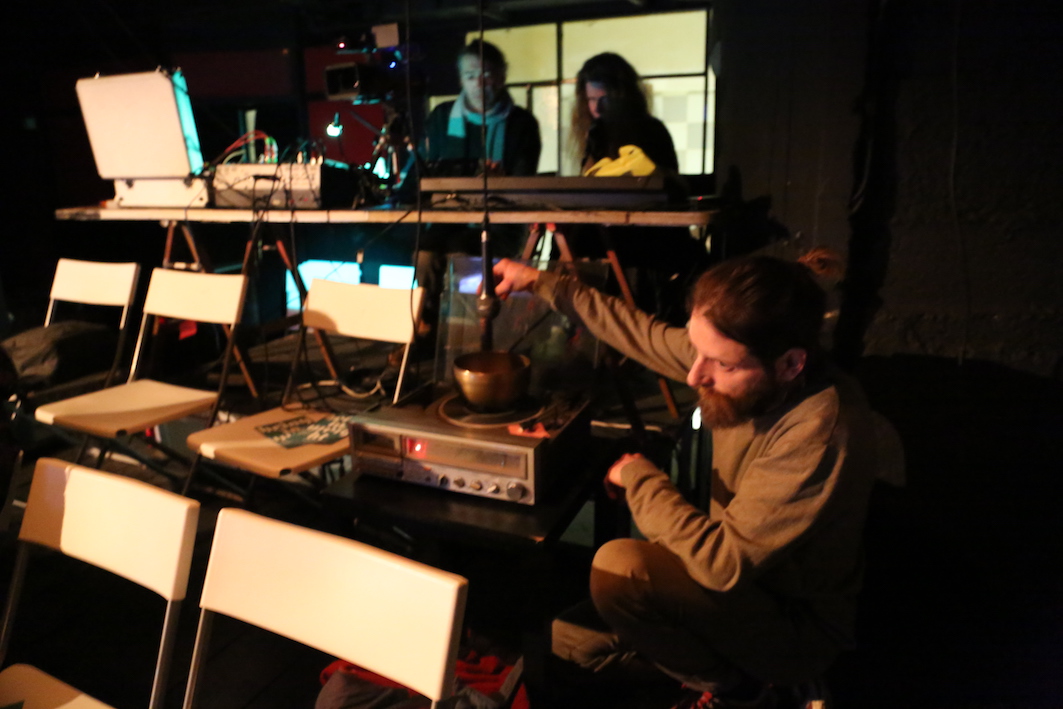 SLOVENŠČINA

Bring in Weight, kritika populizma: Maribor, 27.– 29.02.2020

Projekt Bring in Weight je umetniška kritika populizma.

S pričetkom decembra 2019 v Berlinu, se drugo srečanje odvija v GT22, Maribor.
Mesec dni kasneje pa je predviden tridnevni nadaljnji razvoj v münchenskem umetniškem paviljonu KP v starem botaničnem vrtu. Sredi junija je predvidena zaključna prireditev v Zürich Kunstraum Walcheturm.

Projekt sestavlja raznovrsten nabor umetniških intervencij in impulzivnih predavanj. Že na prvem berlinskem srečanju smo ugotovili, da pluralna ponudba različnih perspektiv projekta ne napravi le zanimivejšega, ampak tudi bistveno poveča zbranost obiskovalcev.

S tem bi radi nadaljevali v Mariboru in se tematiki tam približali še malce drugače. Tudi v Mariboru bomo predstavili različne umetniške in teoretske vidike ter prakse, da bi poudarili pozitivnejše energije (in orodja) oziroma poimenovali kulturne in miselne drže, ki nasprotujejo zapiranju vase in razgaljajo zavestno poenostavljene razlage sodobnih demagogov in demagoginj.

Skratka: skozi raznovrstno umetniško in teoretsko ponudbo si bomo prizadevali kritično premotriti populizem.
V mariborskem GT22 bomo 27. in 28. februarja čez dan prirejali delavnice, zvečer po 18.30 uri pa se bo odvijal pester program, sestavljen iz kratkih predavanj, performansov in glasbe (ter ptičjega koncerta v soboto zvečer).

Dobrodošli!

Harm Lux, kustos projekta, Berlin



DEUTSCH

Bring in Weight, a Critique on Populism, Maribor 27.- 29.02.2020

Das Bring in Weight Projekt ist eine künstlerische Kritik am Populismus.

Begonnen im Dezember 2019 in Berlin, findet das zweite Treffen im GT22, Maribor, statt.
Einen Monat später ist eine dreitägige Weiterentwicklung im Münchner KP - Kunst-Pavillon im alten
botanischen Garten - angesetzt, Mitte Juni wird die fi nale Veranstaltung im Zürcher Kunstraum
Walcheturm durchgeführt.

Das Projekt formt sich insbesondere durch ein vielfältiges Angebot an künstlerischen Interventionen und Impulsreferaten. Als Ergebnis des ersten Berliner Treffen lässt sich festhalten, dass das plurale Angebot unterschiedlicher Sichtweisen das Projekt nicht nur spannend macht, sondern auch die Konzentration der Anwesenden wesentlich stärkt.

Dies soll in Maribor wieder aufgegriffen, jedoch vor Ort anders wiederholt werden. Erneut werden ganz unterschiedliche künstlerische und theoretische Sicht- und Handlungsweisen eingebracht, um kulturelle und geistige Haltungen zu benennen, die das Gegenteilformen von Abschottung und auf die bewusst simplifi ziert gehaltenen Erklärungsangebote von zeitgenössischen DemagogInnen reagieren.

Kurz formuliert: Dank eines vielfältigen künstlerischen und theoretischen Angebots wird versucht,
ein kritisches Licht auf den Populismus zu werfen.
Im Mariborer GT22 werden wir am 27. und 28.02. tagsüber Workshops und abends ab 18.30 Uhr ein dichtes Veranstaltungsprogramm anbieten, bestehend aus Kurzbeiträgen, Performances und Musik
(und ein Vogelkonzert am Samstagabend).

Herzlich Willkommen !

Harm Lux, Projektkurator, Berlin





PODCAST: MariborIsTheFuture 95: Bring in Weight, critique of populism #2 by

GT22



From 27th till 29th of February GT22 hosted in Maribor the international conference Bring in Weight, critique of populism with several artists and theoreticians from Slovenia, Germany, Switzerland and Austria.
We invited some of them to our studio to share their impressions on the conference, the subject of populism and the question, what can art do about it. Guests: the singer and sound engineer Julie Semoroz, the sociologist and philosopher Jernej Kaluža, Maria-Leena Räihälä and Manuel Bonik from the collective Morgenvogel, and the artist, also a former politician, Ann Schomburg.

Moderator: Žiga Brdnik
Sound: Boštjan Eržen





PERFORMATIVNI PRISPEVKI & DELAVNICE / PERFORMATIVE BEITRÄGE & WORKSHOP
Morgenvogel Real Estate, umetnik, Berlin
Philip Kojo Metz, umetnik, Berlin
Robert Prosser, avtor-performer, Tirolska-Duna
Silvia Wienefoet, umetnica, München

ZVOK-HRUP-GLASBA / SOUND-NOISE-MUSIK BEITRÄGE
Morgenvogel Real Estate, umetnik, Berlin
Philipp Rhensius, avtor, skladatelj, DJ, Berlin
Robert Prosser, avtor-performer, Tirolska-Duna
Julie Semoroz, pevka in zvočna umetnica, Ženeva

TEORETSKI PRISPEVKI / THEORETISCHE BEITRÄGE
Ann Schomburg, umetnica, Berlin
Kaja Kraner, doktorica humanističnih znanosti, Ljubljana
Manuela Unverdorben, teoretičarka in umetnica, München
Philipp Rhensius, avtor, skladatelj, Berlin
Jernej Kaluža, sociolog in PhD filozofije, Ljubljana

VERBALNO-UMETNIŠKI PRISPEVKI O POPULIZMU / VERBAL-KÜNSTLERISCHE BEITRÄGE ZU POPULISMUS
Philip Kojo Metz, umetnik, Berlin
Silvia Wienefoet, umetnica, München
Veli & Amos, umetnika, Zürich
Julie Semoroz, pevka in zvočna umetnica, Ženeva

IMPRESSUM

POBUDNIKI PROJEKTA / PROJEKTINITIATOREN:

Kunstraum Walcheturm

, Zürich

ORGANIZACIJA / ORGANIZATION: Flux I bell sTRUcTURs e.V, Berlin,

Foundation Sonda

+

GT22

, Maribor

OBLIKOVANJE / GESTALTUNG: Carina Müller, München

FOTODOKUMENTACIJA + WEB / FOTODOKUMENTATION + WEB:

Carlos Leon-Xjimenez

, Künstler, Berlin

KUSTOS PROJEKTA / PROJEKT KURATOR: Harm Lux, Berlin

PREVOD / ÜBERSETZUNG: Ana Jasmina Oseban, Berlin

PROJECT MAIN SUPPORTER
PDF PRINTED PROGRAM / PDF GEDRUCKTES PROGRAMM
3. München 2020
28-29.08.2020

Place/Ort: KunstPavillon im alten botanischen Garten, München
Participants/TeilnehmerInnen:
+ Danilo Bastione (München/Napoli)
+ Jernej Kaluza (Ljubljana)
+ Mladen Miljanovic (Banja Luka)
+ Philip Kojo Metz (Berlin)
+ Robert Prosser (Wien/Alpbach)
+ Mirjam Bayerdörfer (Zürich)
+ Maria Justus (München)
+ Domino Pyttel (München)
+ Phillipp Rhensius (Berlin)
+ Julie Semoroz + Swann Thommen (Genève)

ENGLISH

Short Curatorial Introduction
Participants in this project contribute their artistically or theoretical funded work - offering a critique on a culture that is increasingly characterised by segregation and greed, and very often accompanied by nationalistic undertones.
This is a process of open thinking and acting, speaking and tugging, in order to tap into and disrupt mainstream political narratives. Classic democracy, in the sense of establishing a State objective; and Liberalism, in the sense of a free thinking, are often characterised by an idea of isolation. In this context, there is a strong focus on the desires and needs of the individual. In contrast, we want to bring back into play the possibility of a sharing and participating collective society.

The Munich event showcases a variety of approaches; with different theoretical and artistic contributions questioning and complementing each other. The program is comprised of body-sound-voice performances, as well as short talks and discourses.
The types of perspectives and actions that will emerge in Munich remain to be seen as the event unravels. This naturally prompts us to question whether we, as a society, should put emphasis on expanding borders of any kind, or on expanding personal horizons? We might also ponder what strengthens our mutual responsibility and the necessary willingness to help others.
We strongly believe in the power of performative artistic action and theoretical approaches to strengthen our lived experience as well as our exchange with one another. And of course, critical perspectives and suggestions from the visitors are very welcome!

Harm Lux
DEUTSCH

Kurze kuratorische Einführung
Die Demokratie, aber auch die Kultur und der Liberalismus (im Sinne des freien Denkens) sind von Absonderung geprägt, von der Konzentration auf die Wünsche und Bedürfnisse des Einzelnen.

Das Projekt BIW versammelt im Geiste eines kollektiven Denkens internationale Künstler*innen, die ihre eigenen, künstlerischen oder theoretischen Positionen einbringen, um Kritik an diesen Entwicklungen zu üben -
und in Form eines offenes Dialogs sowie Sound-, Musik- und Spoken Word-Performances,
populistische Narrative auf ihren Gehalt abzuklopfen. Hierbei sind kritische Stimmen und Anregungen der Besucher*innen herzlich willkommen…

Harm Lux
PERFORMATIVE CONTRIBUTIONS
Mladen Miljanovic, artist, Banja Luka, BiH
Mirjam Bayerdörfer, artist, Zürich
Domino Pyttel, artist, Münich
Robert Prosser
, author & artist:
SCULPTURAL INTERVENTION
Philip Kojo Metz, artist, Berlin
SOUND CONTRIBUTIONS
Philipp Rhensius
, sound researcher, writer & composer:
Julie Semoroz, soundartist-composer &
Swann Thommen, artist, both Geneva
Danilo Bastione, artist, musician, Münich, Napoli
THEORETICAL CONTRIBUTIONS
Jernej Kaluža, Prof. Dr. philosopher, Ljubljana
PERSONAL ARTIST TALK ON POPULISM
Ann Schomburg, artist, Berlin
Philip Kojo Metz, artist, Berlin
GROUP TALKS
Participans + Audience + Curator
IMPRESSUM
Bring in Weight,
A Critique on Populism
28.08.2020
München
KP KunstPavillon
Im alten botanischen Garten,
Sophienstrasse 7a
80333 München
PROJECT by
Kunstraum Walcheturm
(Zürich)
Curatorial + Coordination by Harm Lux
Produced by Flux I bell sTRUcTURs e.V. (Berlin)
Organisation partner:
KP KunstPavillon
, München
Design:
studio-mllr.com
(München)
Text Edition: Philipp Rhensius (Berlin) + Sian Cottrell-Davies (Auckland)
Webpage:
Carlos Leon-Xjimenez
+ Harm Lux (Berlin)
PROJECT MAIN SUPPORTER
LOCAL SUPPORTER
PDF PRINTED PROGRAM / PDF GEDRUCKTES PROGRAMM
4. Zürich 2022
Place/Ort:
Kunstraum Walcheturm

Kanonengasse 20, 8004 Zürich
walcheturm.ch/agenda/bring-in-weight
Program details for Friday 8th and Saturday 9th,
19:00-23:40, see flyer at the end of this page
Participants/TeilnehmerInnen:

+ Danilo Bastione (München)
+ Ralf Homann & Manuela Unverdorben (München)
+ Jernej Kaluza + Robert Bobnič (Ljubljana)
+ Milenko Lazic (Zürich)
+ Carlos León-Xjimenez (Berlin / Lima)
+ Angela Marzullo (Geneva)
+ Philip Kojo Metz (Berlin)
+ Robert Prosser (Alpbach), Lan Sticker (Vienna), supported by Dream Team Boxing (Zürich)
+ Phillip Rhensius (Berlin)
+ Andreas Sell (Lesvos / Berlin)
+ Veli & Amos (Zürich)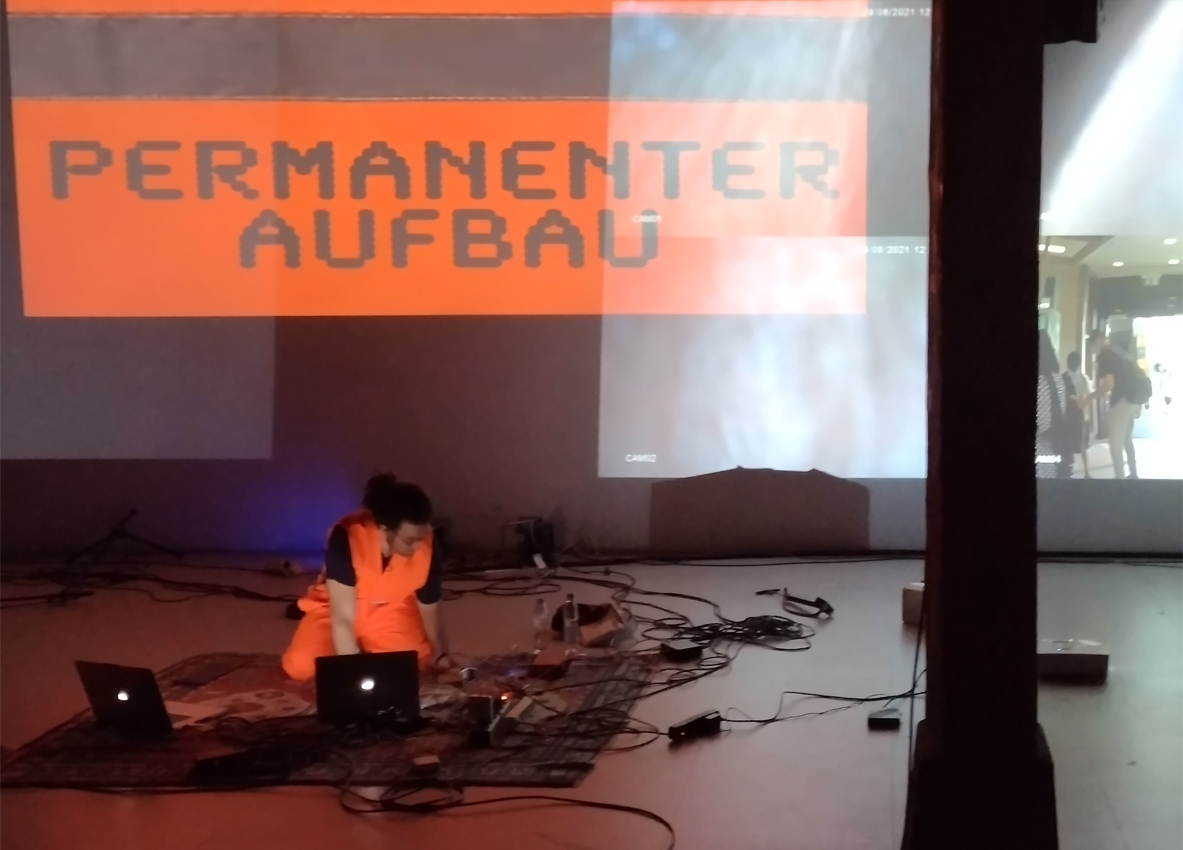 ENGLISH


A SINCERE INVITATION TO BRING IN WEIGHT
Before passover already further with Performance, more Grüninger

Do we want to remain witty, or does a constant reinterpretation of terms demand too much from many? Shall the Being grant the Shine, why still Rights of Immigration, it could already be a "welcome tolerance-certificate"! Yes, many humanly desirable is always being interwoven after a longer back-and-forth, it is valid now, it is considered as judicial norm, as one of many orientation particles for the definition of Freedom, does this still function today!

During both project's evenings, we question the concept of freedom in times of growing populism, which above all, endangers the social recognition of marginalized groups.

The social recognition of those, who are characterized by material segregation and nationalism, is painful. Let's get involved, -democratic citizens-, still too little!



As we know: communicative exchange on the one hand, and empathy (silent long listening, patient settling in) on the other hand, sensitize our senses, and only through the constant actualization of these can the social democratic infrastructure (in our case, life in the connection between physical & digital-virtual space) can constantly renew itself.

Only in this way everyone can contribute in a timely appropriated manner, (to interpretate the past as an important historical deposit).

If we want to give a chance to a new way of thinking in the Anthropocene, then we should specifically ask: how the individuals can get involved?

But we should also rethink concepts and relationships, for example "(how to) get involved, (the way of dealing with) protection & openness" and question the materially shaped relationship of "working- & leisure time" in order to embed these as a new. Rethinking the artistic production and presentation by bringing of new special views and deeds* (H. Arendt) form the material that stimulates new life, which minimizes segregation and populism.

Historically pathetic; Passover, Door to the Future, in Anticipation of Bring in Weight, Zurich

Harm Lux,
Project curator Bring in Weight, Critique on Populism
Berlin, 03/08/2022


DEUTSCH


HERZLICHE EINLADUNG ZU BRING IN WEIGHT
Vor Passah schon weiter mit Performance, mehr Grüninger

Wollen wir geistreich bleiben, oder verlangt eine stetige Begriffsumdeutung vielen zu viel ab? Soll das Sein den Schein gewähren, wieso noch Einreisefreiheit, könnte schon ein "willkommen-Toleranzschein" sein! Ja, viel menschlich Wünschenswertes wurde stets nach ein längeres Hin-Her eingeflochten, gilt jetzt als justizielle Norm,
als eine von vielen Orientierungspartikel zur Freiheitsdefinierung, reicht dies heute noch! 



An beiden Projektabenden hinterfragen wir den Begriff der Freiheit in Zeiten des wachsenden Populismus,
der vor allem die gesellschaftliche Anerkennung marginalisierter Gruppen gefährdet. Die gesellschaftliche Anerkennung derer,
deren Lebenswelten von materieller Abgrenzung und Nationalismus geprägt sind, schmerzt. Engagieren wir uns, -demokratische Bürger*innen, noch zu wenig!



Wie wir wissen: der kommunikative Austausch einerseits, und die Empathie (stilles langes Hin-Zuhören,
geduldiges Einleben) anderseits, verfeinern unsere Sinne, und nur durch die stetige Aktualisierung dieser kann die sozial demokratische Infrastruktur (in unserem Fall das Leben in der Verbindung zwischen physisch- & digital-virtuellem Raum) sich stets erneuern, nur so kann jeder sich Zeitgerecht einbringen, (um Vergangenheit
als historische Ablage zu empfinden).



Wenn wir einem neuen Denken im Anthropozän eine Chance geben wollen, dann sollten wir konkret danach fragen, wie sich die Einzelnen einbringen. Sollten aber auch Begriffen und Verhältnisse überdenken, z.B. "(wie sich) Einbringen, (Umgang mit) Schutz & Offenheit" um hier natürlich die materiell geprägte Beziehung "Arbeitszeit & Freizeit" mit einzubeziehen, um all diese neu einzubetten. Umdenken in der künstlerischen Produktion und Präsentation, das Einbringen von neuen speziellen Ansichten und Taten* (H. Arendt) bildet den Stoff,
der neues Leben anregt, welches Absonderung und Populismus minimalisiert.

historisch pathetisch, Passah, Türe zur Zukunft, in Vorfreude auf Bring in Weight, Zürich



Harm Lux,
Projektkurator Bring in Weight, Kritik am Populismus
Berlin, 08.03.2022






PROJECT SUPPORTER


PDF PRINTED PROGRAM / PDF GEDRUCKTES PROGRAMM